Long Training Weekend - Day 3
Today I would make my way from Florida to North Carolina and needed to pick up a friend that was delivering his airplane for its annual inspection.
With the adjustments made to the airplane, it was time to take one more test flight for verification and then head up to Charlotte. The weather in central Florida was expected to start to worsen in the early afternoon hours, so the earlier I could depart, the better. These kinds of pop-up storms and showers are generally pretty easy to get around, but only if you get a jump start on them. The goal was to try to leave early enough to be able to climb above the lowest cloud layer in the search for smoother air.
Route for Day 3: 5FA1 - 42J - KEQY - KPYG - KLBT - KPYG
Fruitland Park, FL. - Keystone Heights, FL. - Monroe, NC. - Pageland, SC. - Lumberton, NC. - Pageland, SC.
Duration: 6.0 hours - 526 miles and a local test flight
It was another early morning start, with a 6 a.m. wakeup call and a lobby pickup at 8 a.m. R.J. was going to pick me up on the way into the office and we were going to stop at Wawa for a cup of coffee enroute. Although I had already had two cups of coffee in the hotel before he arrived, I am not one to turn down a good cup of coffee. Besides, I was going to have a long day of flying ahead of me.
Upon arrival at the shop, Brian greeted me as soon as I got out of the car. The airplane had been untied and was ready for what we hoped to be the final test flight. After throwing my bags into the plane and performing a preflight inspection, Brian and I flew off searching for smoother air in order to test the minor adjustment that had been made just before the weather grounded us yesterday. From what I was able to tell, everything seemed great. The left wing didn't droop as much as it previously had, although the plane still requires a little left rudder trim to keep the ball of the turn coordinator centered. It was definitely a great improvement! We circled back around and once again landed back at the shop. It was now getting time for lunch, and I was crunched for time if I was going to beat the weather, so I settled up my bill and said my goodbyes. As they left for lunch, I did one last check of the enroute weather conditions and decided where I was going to stop for fuel on the way. Within a few short minutes, I was back in the air and headed north.
The fuel stop that I decided on was in Keystone Heights, Florida, about 65 miles north. After looking at my intended path of flight and the fuel costs along the way, Keystone Heights was the best option, and to top it off, I would be able to fly low and stay under the cloud layer that was starting to form. The one thing about Keystone Heights is that is flanked by a lot of restricted airspace along the east side of the airport, which is due to the fields close proximity to the Camp Blanding. And when I say close, I mean that the restricted airspace begins 1.6 miles off of the end of runway 23. I needed to make sure that flew my pattern pretty close.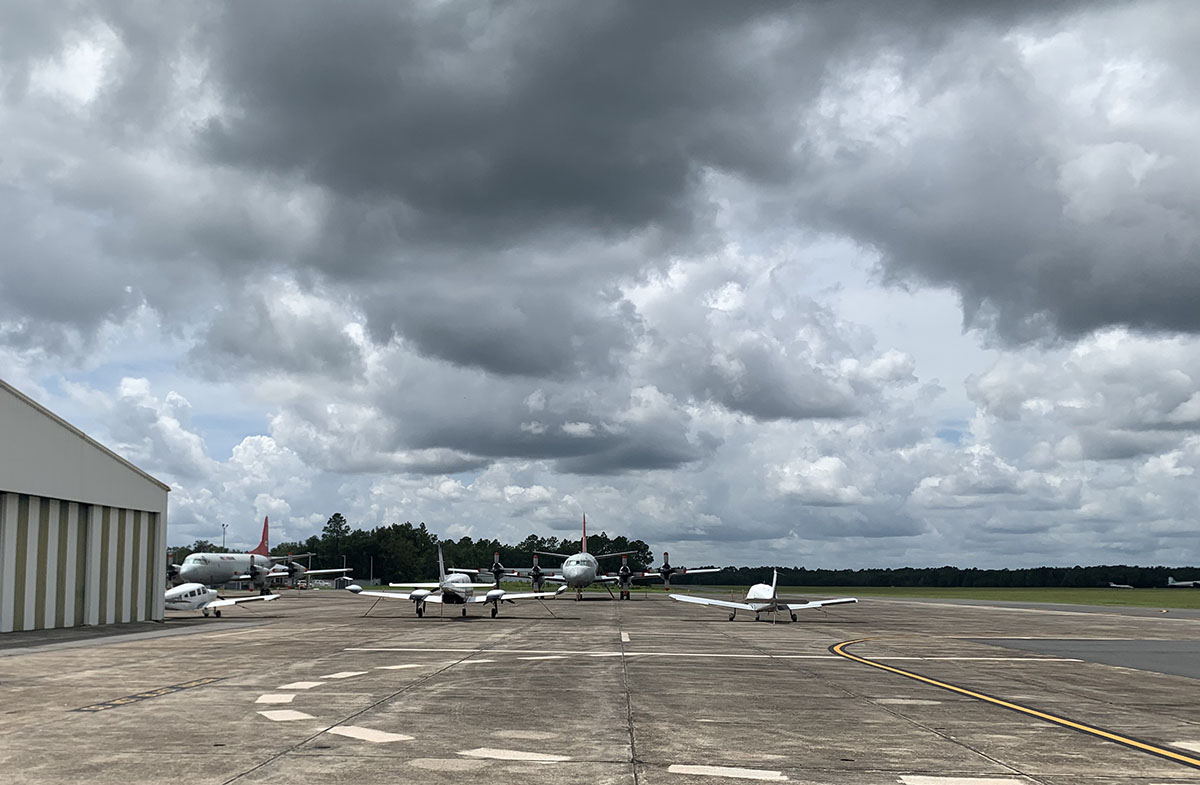 After touchdown, I turned off of the runway to the fuel pumps and noticed a fleet of Lockheed P-3 Orion aircraft parked on the ramp. After looking up this airport's history, it turns out that it was originally known as Keystone Army Airfield when it was commissioned in 1942, and it was turned over to the city of Keystone Heights after the end of World War II in 1947. The airport was very quiet, so there was no delay in getting to the fuel pumps to top off. After fueling, I made one quick detour into the FBO for a restroom break and had the pleasure of meeting Jack, the local airport dog. After the bio break and a pat on the head for Jack, it was time to get back into the air to head to North Carolina.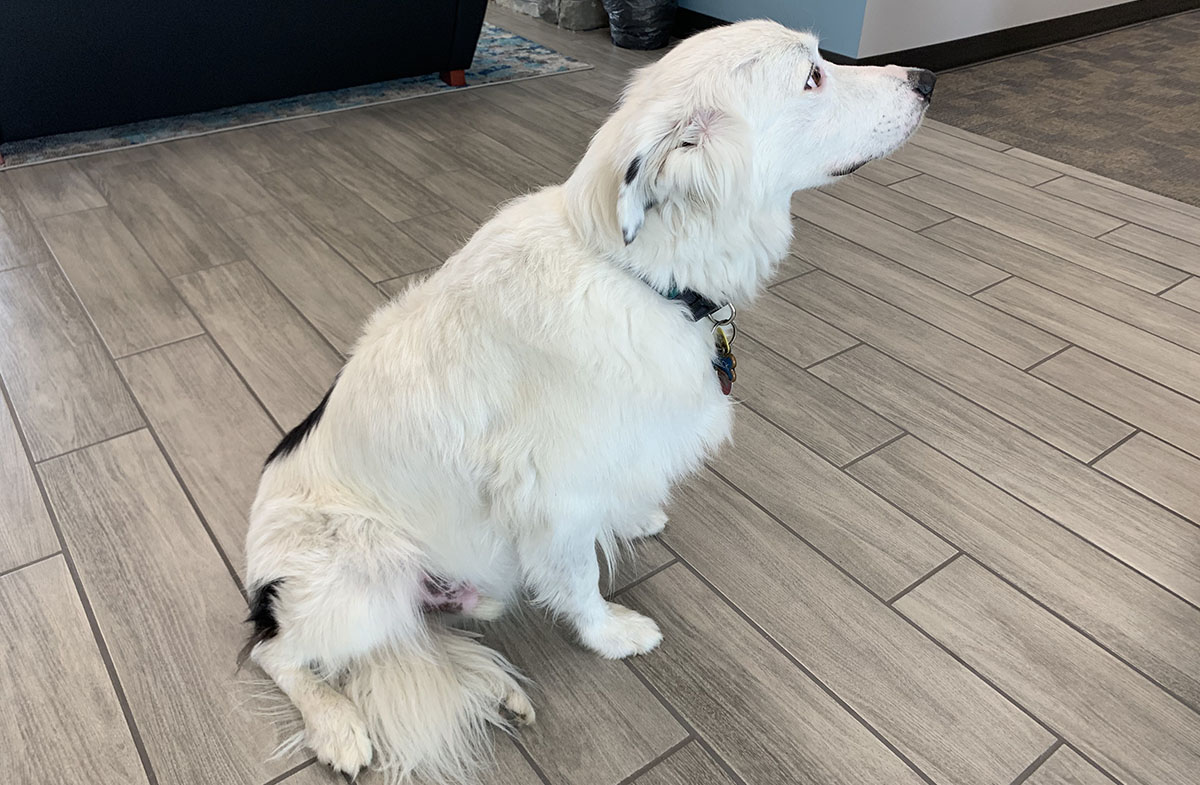 After liftoff and turning to the north, I contacted Jacksonville Approach for flight following with an altitude of 7500 feet. No sooner did I reach my intended altitude when I was passed off to Jacksonville Center and they had some alternate routing for me in order to keep me clear of some military operation airspace, which is peppered all over north Florida and south Georgia. After about 10 minutes of flying a more westerly course, the MOAs went cold and I was told that I could turn direct to my destination. Now, it's time to settle in, relax, and enjoy the flight. Other than the monitoring of the engine, aircraft systems, and looking for other traffic, there isn't a whole lot to do on a solo cross-country flight of this length.
The clouds over south Georgia were much better than back in Florida, and at this altitude, they were nothing more than what seemed like small pillows beneath me. This is the view that I always look forward to. When you climb above the lowest cloud layer, the air is much smoother than below them, and the temperatures aloft are much cooler. Instead of being a steamy 92 degrees or so, the air at this altitude was in the mid-60s and made for a comfortable flight, if not even a little chilly. I was able to pick up a nice tailwind on this part on the route, so the journey across Georgia and South Carolina passed by pretty quickly. My ground speed at one point approached 180 mph, so before I knew it, I was starting my descent and looking for the airport in Monroe, North Carolina.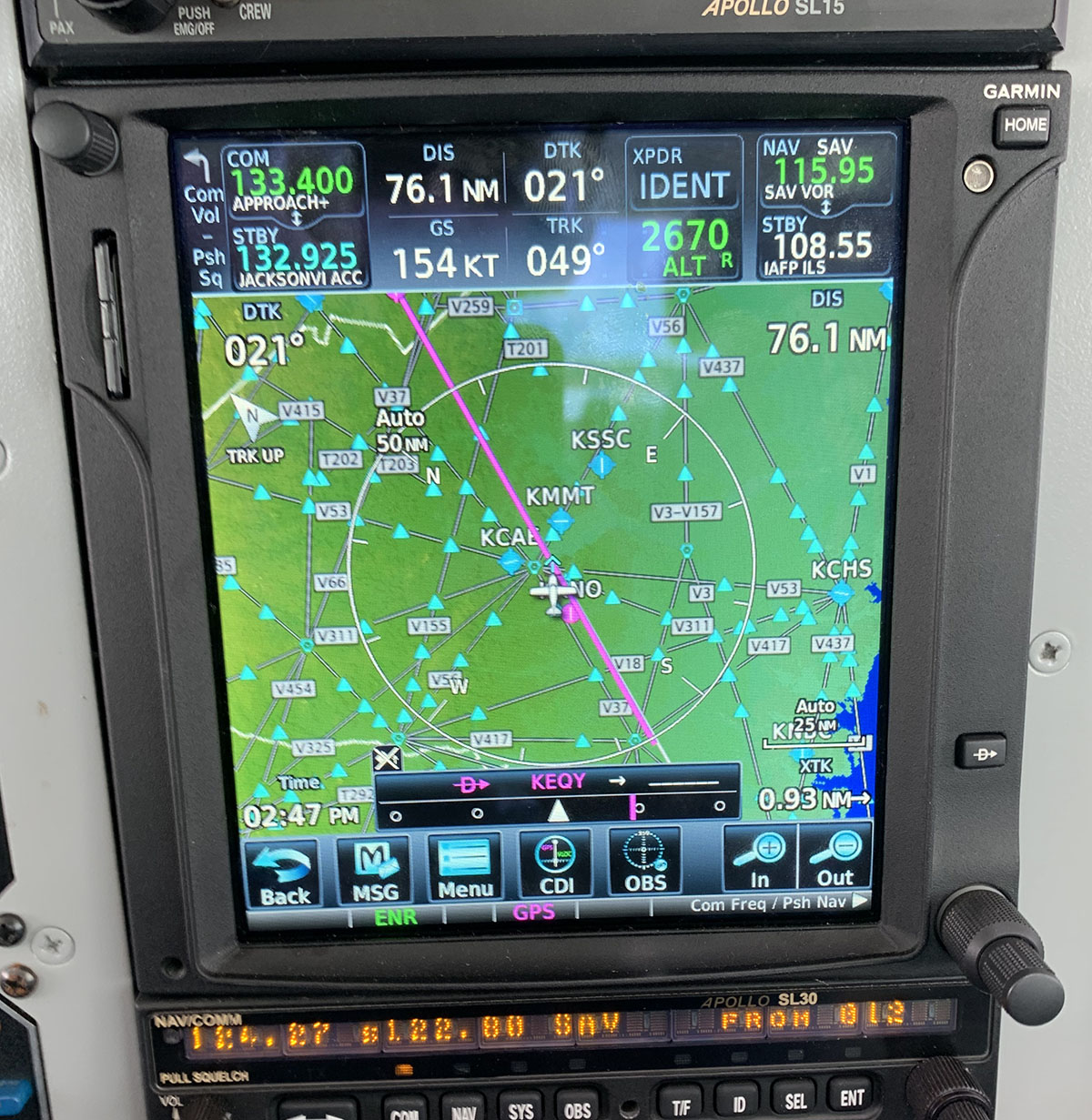 As I approached the Monroe airport, I could see a moderate rain shower just off of the west end of the airport. It was not close enough to be a factor for a normal approach and landing, but it gave me a sense of urgency to get on the ground while I was still able. After landing, I secured the plane at the FBO and waited for Roger to arrive to pick me up. While waiting for Roger to arrive, the storm that had been threatening the airport dissipated with a little more than a few short minutes of wind; not a single drop of rain. Roger arrived after about 45 minutes and the decision was made that since there was still enough time, we would fly over and drop his Cessna 150 off for its annual inspection over in Lumberton, NC. Roger needed to drive over to his hangar in Pageland, SC. and I was going to fly over and meet him there, so I got straight back into the pilot's seat and took the quick 15-minute flight over to Pageland. It was no surprise that I was able to beat him to his hangar, so I parked, shut the engine down, and got a jump start on things by getting his hangar doors open. It only took a few minutes for Roger to arrive and start the "airplane ballet" that would be required to get the Cessna out, since it was parked alongside three other planes in that small hangar.
We lifted off from Pageland for the flight to Lumberton and decided that we would attempt to fly together along the route. This proved much more difficult for me than it was for Roger. The cruise speed of a Cessna 150 is much slower than it is in my 182, so it didn't take long for me to catch up to him in the air, but staying slow enough to keep him in view out of my front windshield was challenging. I had my power and RPM settings so low that I felt like I was flying with my nose pointed straight up. It was actually pretty comical, and after what seemed like an eternity in the air, we finally made it to Lumberton and landed. Of course, the jokes had to start about how I have been spoiled by the speed of my plane and that I am now "too good" for the basic trainers. Pardon the quality of the picture below, but it wasn't easy to capture that image out of the front windscreen while not overpowering him and running him over.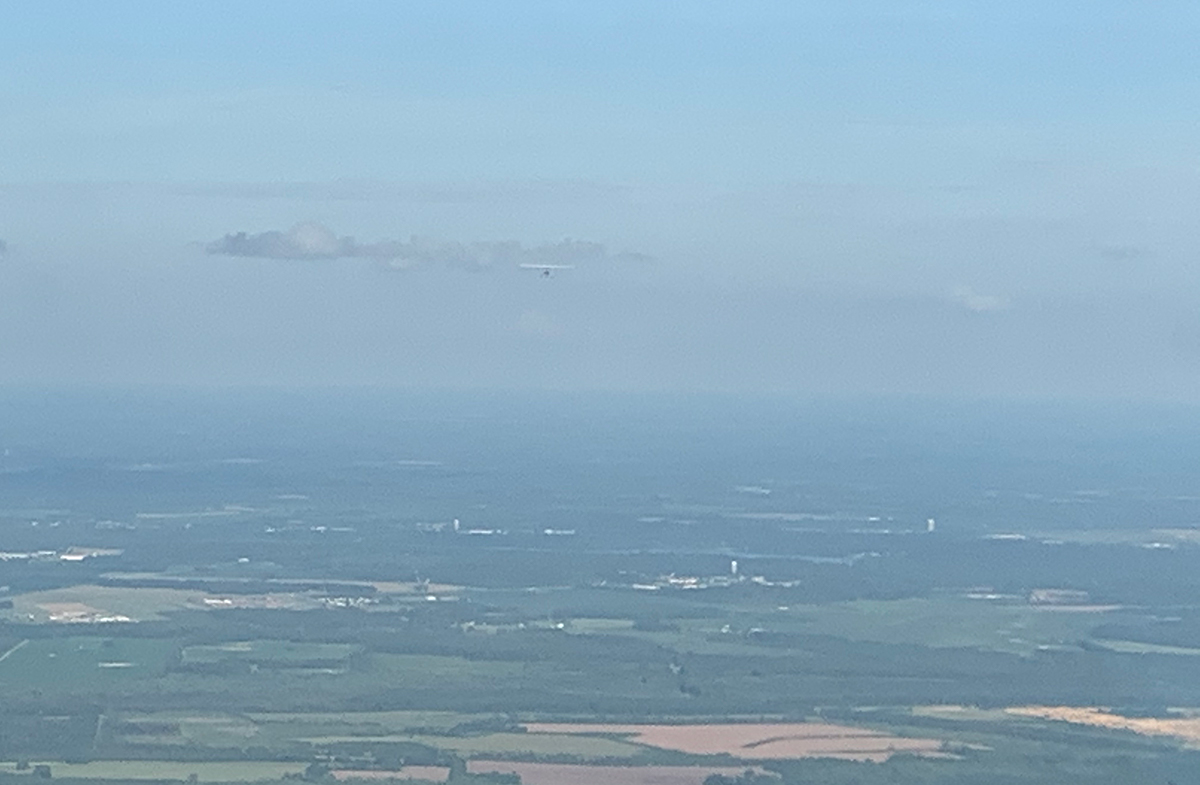 After securing Roger's plane in the mechanic's hangar, which would be home to this little Cessna 150 for the next 2 weeks or so, we climbed back in to my plane for the flight back to Pageland for the night. This was Roger's first time flying in my plane since I got it, and since the sun was going to be setting in front of us, it was a nice, relaxing flight. After liftoff, I set our course and had the autopilot to take us back to Pageland. Most of the time, this is the best time of day to fly. The winds are calm or non-existent, the sun setting on the horizon turns the colors of the sky into brilliant colors of reds and orange, and it usually is a good time to just sit back and reflect on life. It truly is magical.
Upon arriving in Pageland, I setup for the RNAV GPS approach to runway 24 and landed in the darkness. I taxied up to the hangar, put the airplane away and threw my bags into Roger's truck for the drive back to his place in Monroe. I had now been up since 5 a.m. and had 6 hours of flight time, so I was exhausted. It was definitely time for dinner and some much needed rest. Tomorrow would be another day and according to the weather forecast, may not include much flying, due to low visibility and fog. We will have to wait it out and see.
Goodnight!