One of the most important things that you must do after an engine overhaul is to properly break-in the engine components. That gave me an idea… Road Trip!
I picked the plane up and did the initial test flight and flight home on Friday evening, but the weather for the weekend was looking really nice, except for maybe Sunday afternoon, so we decided to make the most of it. After being quarantined in the house for so long, a quick weekend getaway was desperately needed, but if we were going to plan a weekend away, where should we go? Sun, sand, and water definitely had to be considered, so that led us to planning a trip to Fairhope, Alabama.
Why Fairhope? My father was born and raised in Mobile, Alabama, and I spent a great deal of my childhood down in Mobile and the Gulf Shores area. Fairhope has long been known for its beautiful parks and its sweeping panoramic views of Mobile Bay. In addition, it's a short 30 minute drive to both Mobile and Gulf Shores, so although our time there would be relatively short, there would be no lack of things to do.
When planning the flight, I wanted to make sure that I kept my ground operations to a minimum and I wanted to extend my flight time a little, so I could keep the engine running at maximum RPM and manifold pressure. I decided that we would fly almost directly south, leading us to the Panama City Beach area, and we would follow the coastline to Gulf Shores, before turning inbound to Fairhope.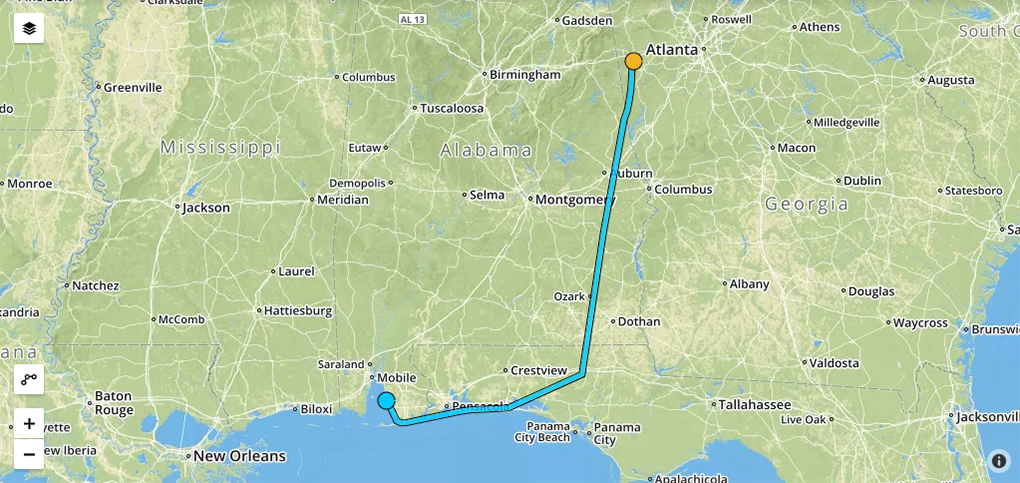 Saturday morning was absolutely beautiful. After performing the pre-flight inspection, checking the oil level, and filling both tanks to the top with 100LL fuel, we departed about 9:30am. I climbed out normally and once I leveled off, I kept the power in, as stated in Continental's break-in documentation. Although we were using this weekend as a getaway, it was also about making sure that the engine was put through its paces. The next hour or so was spent constantly scanning all of the engine instrumentation to make sure that everything stayed within their normal operating limits.
As we approached the coast, air traffic control informed me that they needed to give me vectors around the Panama City airspace. They assigned me a 240 degree heading until I reached the coastline and then, I was free to resume my own navigation. When we approached the coast, we were almost directly over Destin, Florida. The views were nothing less than awe inspiring! Maybe it was just me coming out of a long quarantine induced haze? Maybe it was because I was seeing it my own plane? It didn't matter.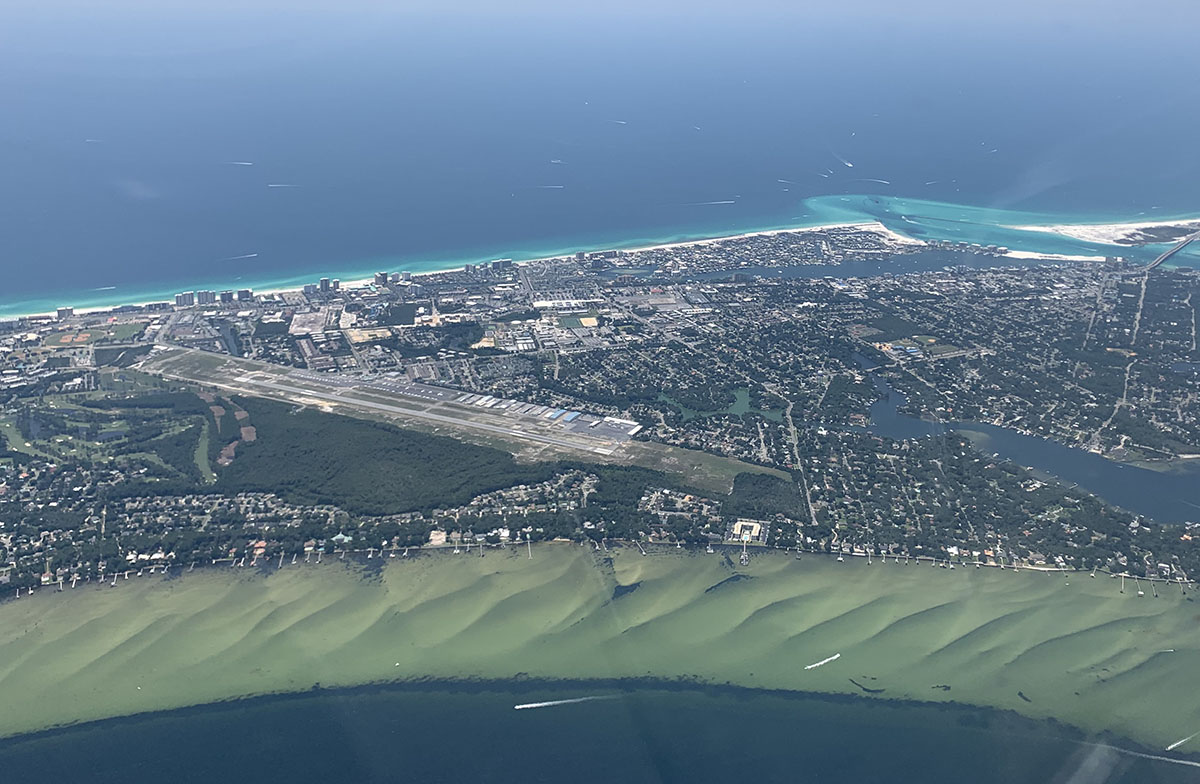 As we continued down the coast towards Pensacola, Florida, we passed just to the south of Eglin Air Force Base and just north of the Gulf of Mexico. With all of the COVID-19 lockdowns being a little more relaxed, I was expecting to start seeing people get out and about, but I wasn't prepared for seeing the sheer amount of people on the beaches and the number of boats on the water. It was pretty amazing!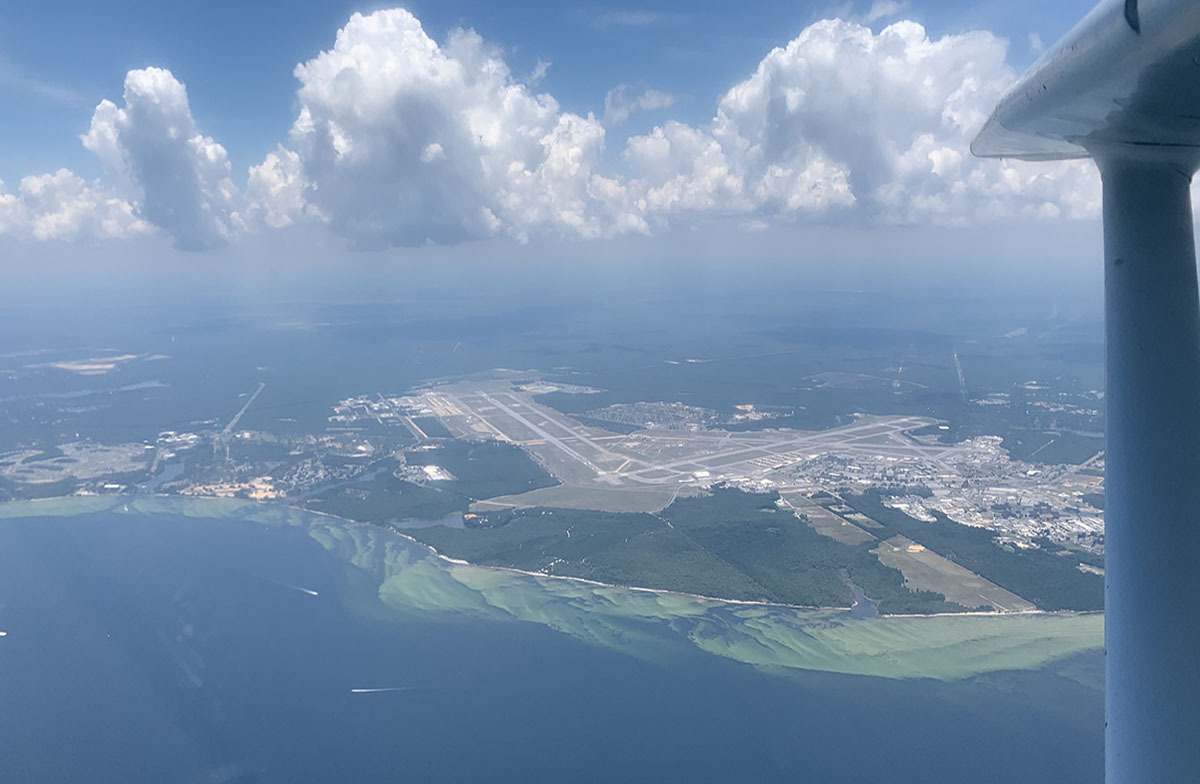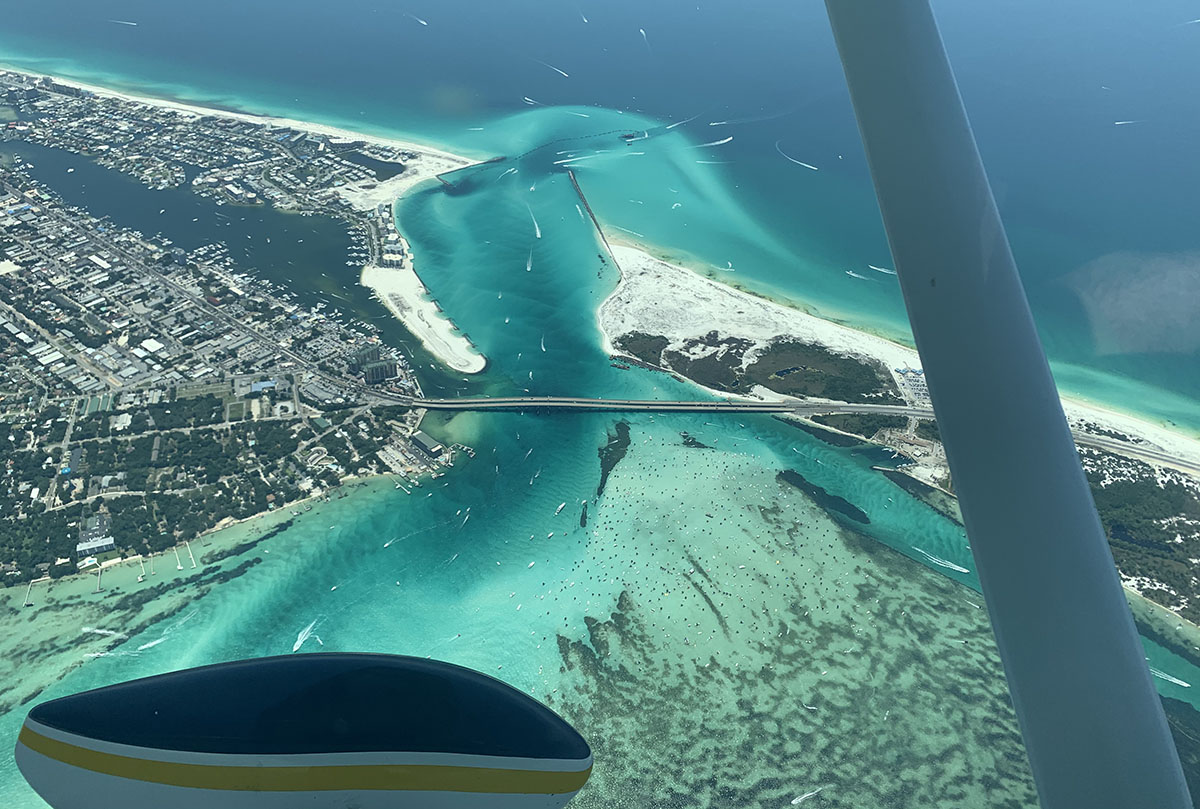 When we landed in Fairhope, we had a rental car waiting for us at the airport, so we unloaded our single duffel bag from the plane and hit the road. Instead of staying at some "normal" hotel for this trip, we had found a cottage that we were able to stay at for the night. It was a small, 2-bedroom cottage that was literally across the street from the main public park in Fairhope. Later in the evening, we would see why everyone seems to congregate in this park at sunset.
After checking into our place for the night, we decided to make the trek into Mobile, just because. I hadn't been to Mobile in many years, and I really wanted to see some of the old sights that I have vague memories of. When crossing Mobile Bay into Mobile, one of the sights that you're greeted with is the U.S.S. Alabama battleship. I have some fond memories of visiting this park as a kid. I found this picture of me with two of my cousins and my uncle. If I had to guess, this looks to be around 1976 or so. Can you tell which one is me? (hint: I'm the only one hamming it up for the camera!)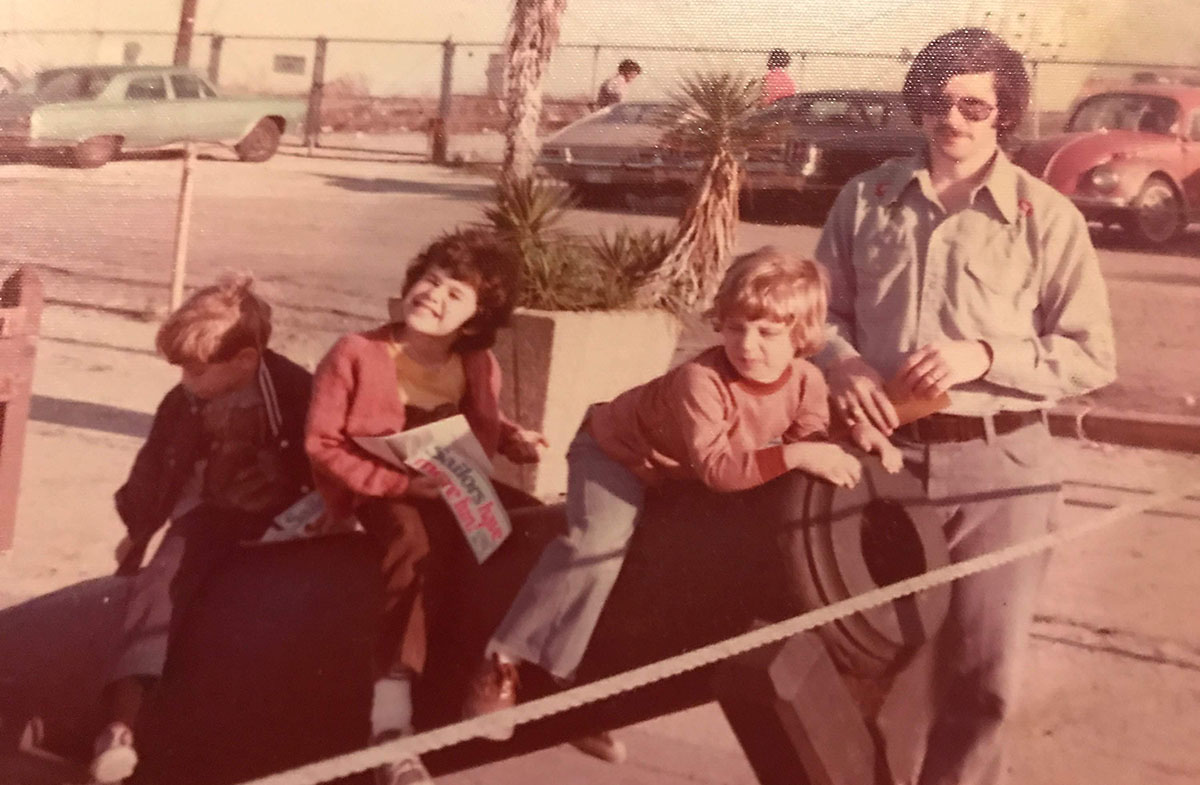 I was really hoping to visit the park again, but then I had a realization… It's about 95 degrees, 95% humidity, and the park was packed with people. Taking a tour through 45,000 tons of solid steel on a day this hot was not an option. As a kid, I could handle the heat a lot better than I can now. A distant picture was going to have to suffice and I would just plan another visit for a time that mother nature wasn't feeling so cruel.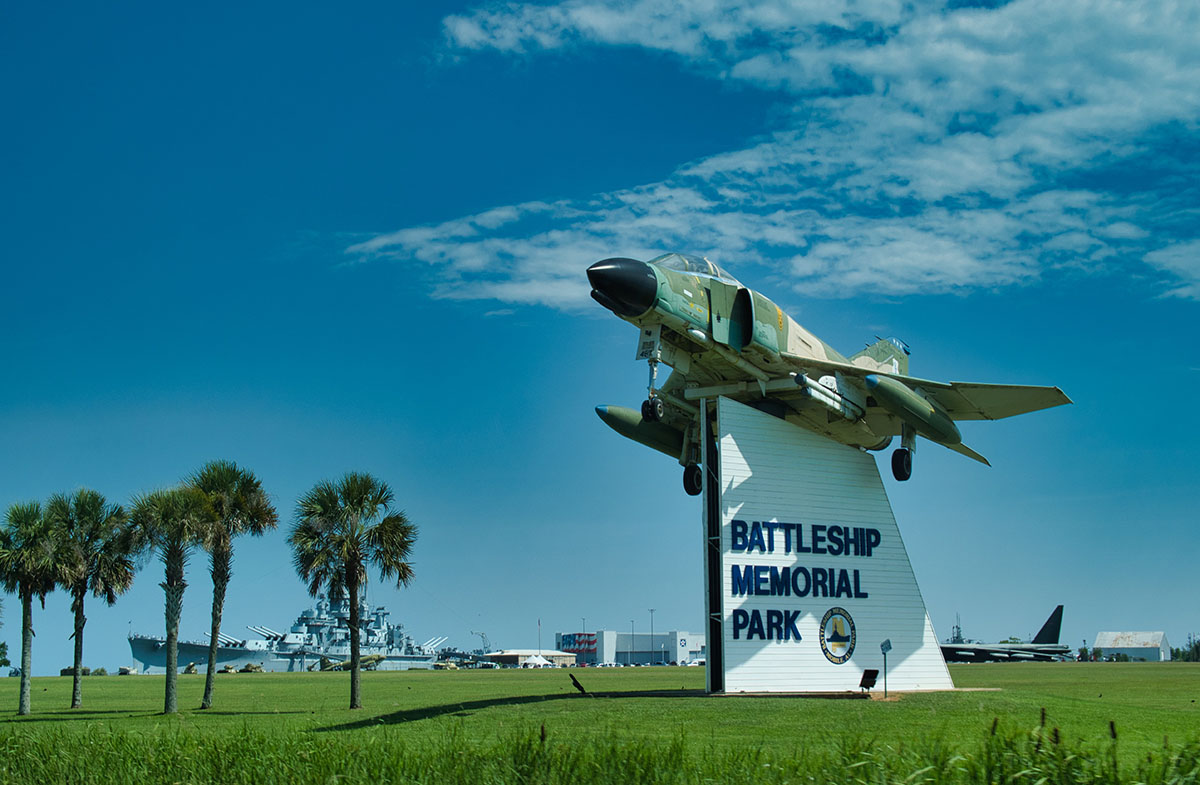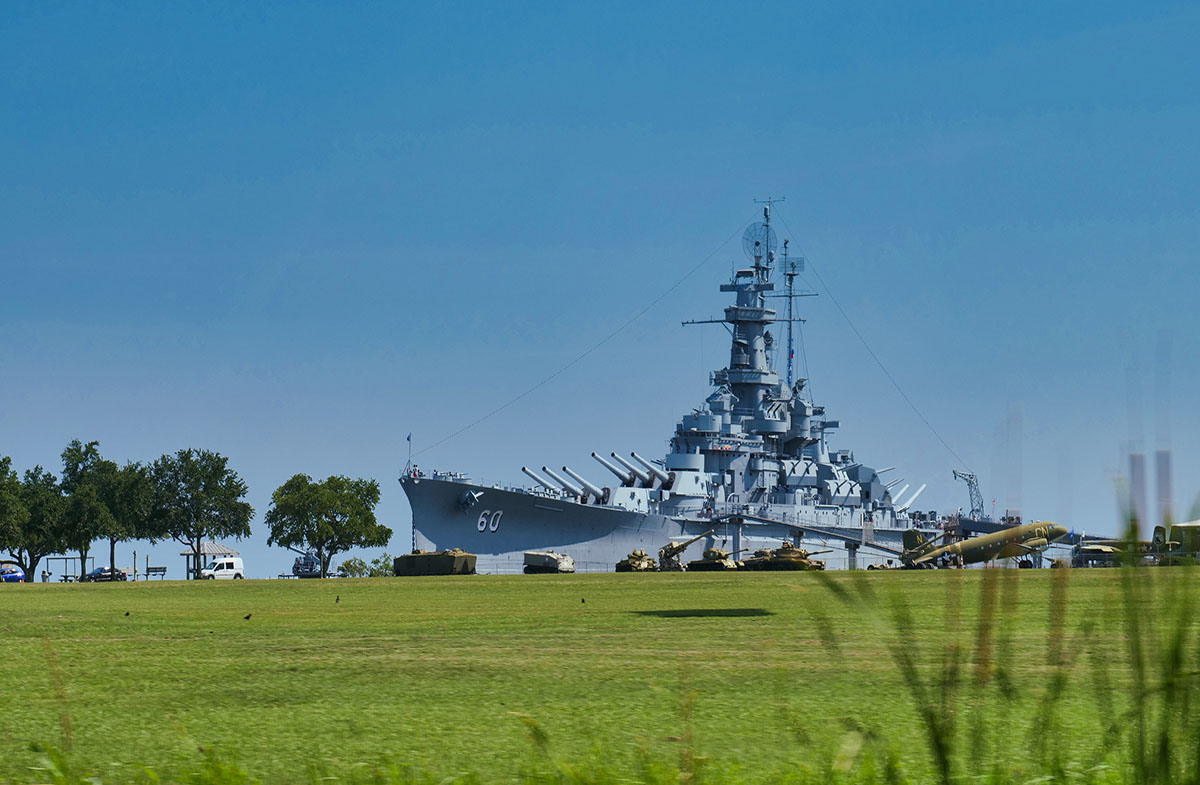 As we passed the park, we decided to go into downtown Mobile to visit another one of those places that hold some childhood memories. The A & M Peanut Shop has been around since 1947 and is considered a Mobile staple. My father has fond memories of visiting this shop as a kid and tells a story of how, during Mardi Gras, someone would dress in a Mr. Peanut costume and walk around downtown giving peanuts away. In the windows at the front of the store, they are constantly boiling and roasting peanuts, so you are always guaranteed to get a hot batch. Oh, and the chocolates and candy…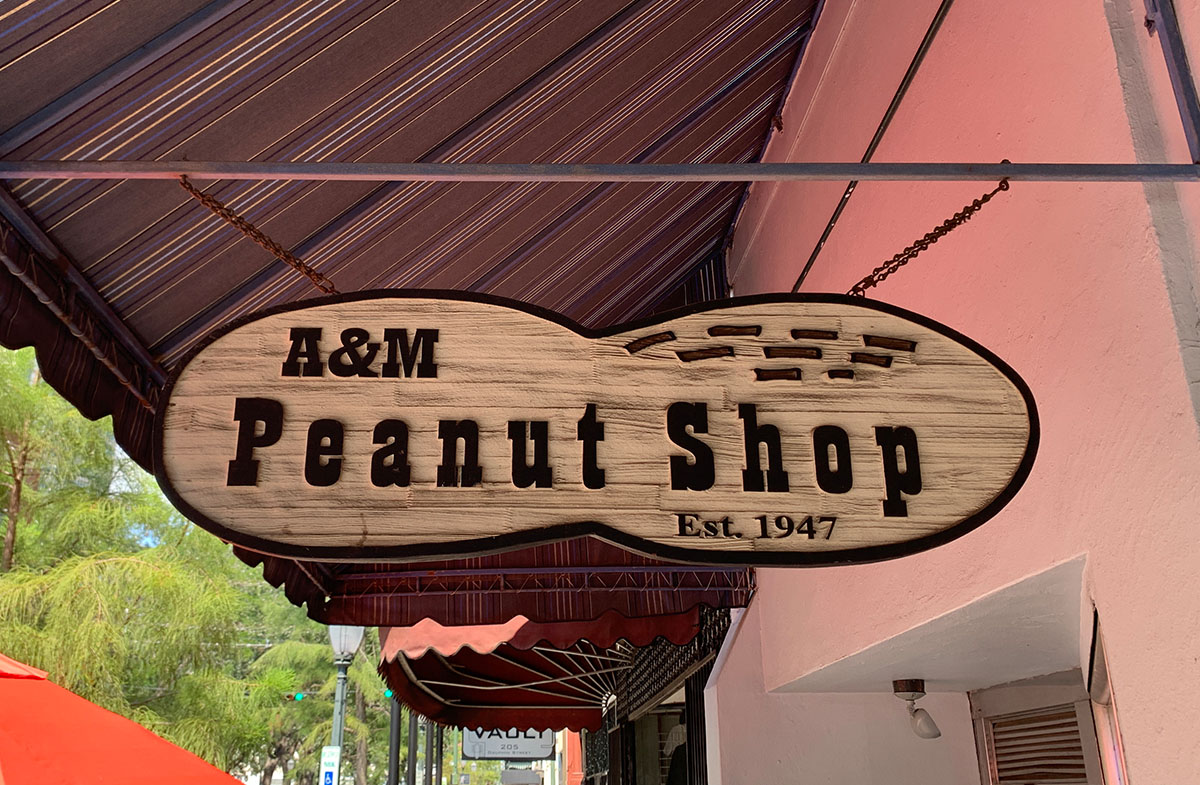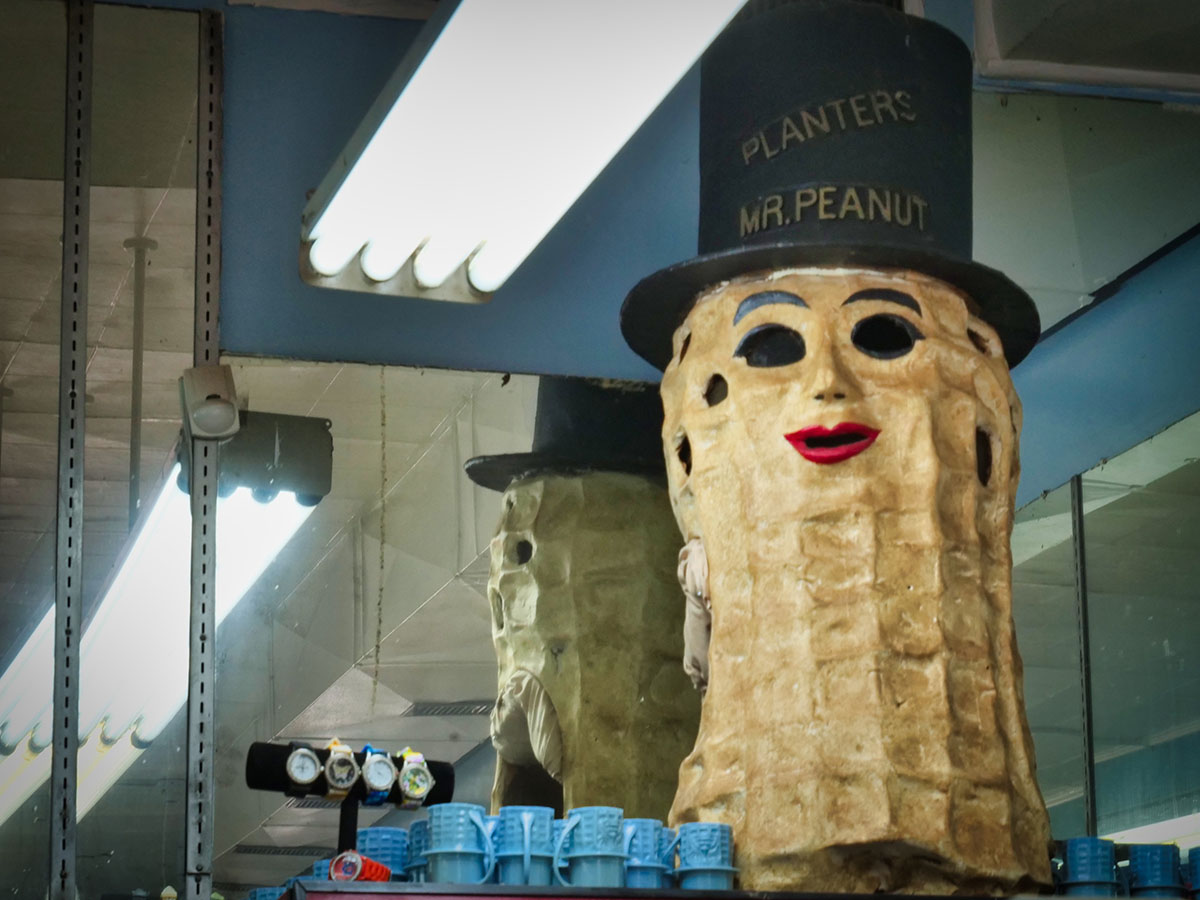 After getting a bag of hot roasted peanuts and a few chocolate nonpareils, we just took a few minutes to stroll around downtown Mobile. Although there were a few people out and about, it was far from crowded, since most of the restaurants and bars were still closed for dine-in customers due to the pandemic. We walked around for a bit and took some pictures of the artwork and sights that litter the streets surrounding a park.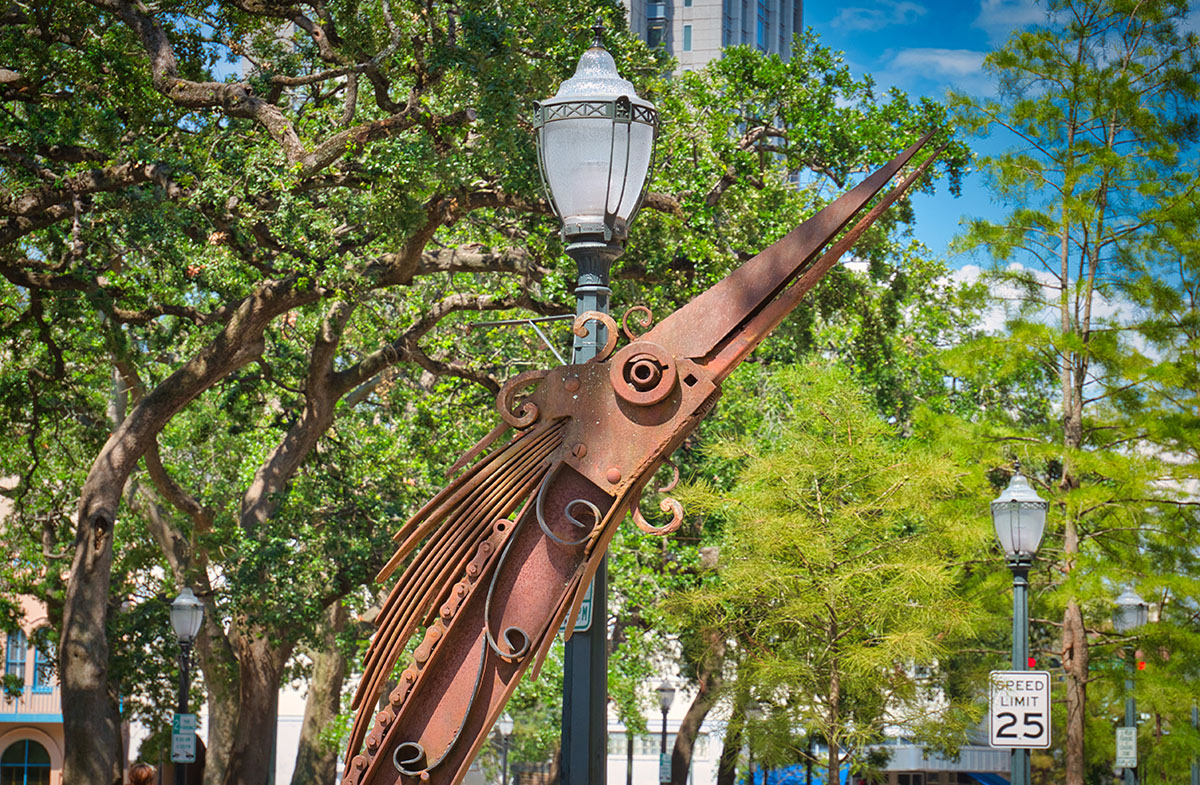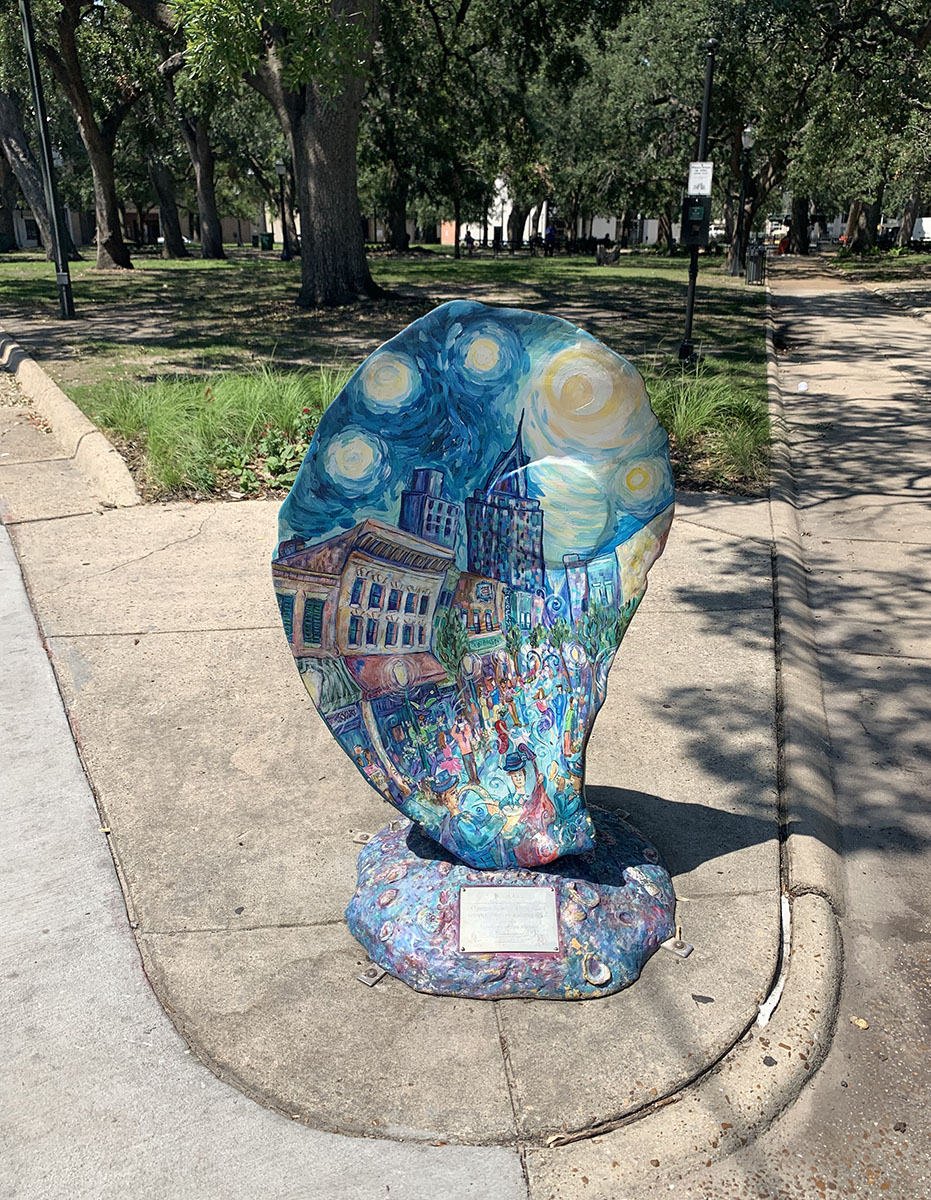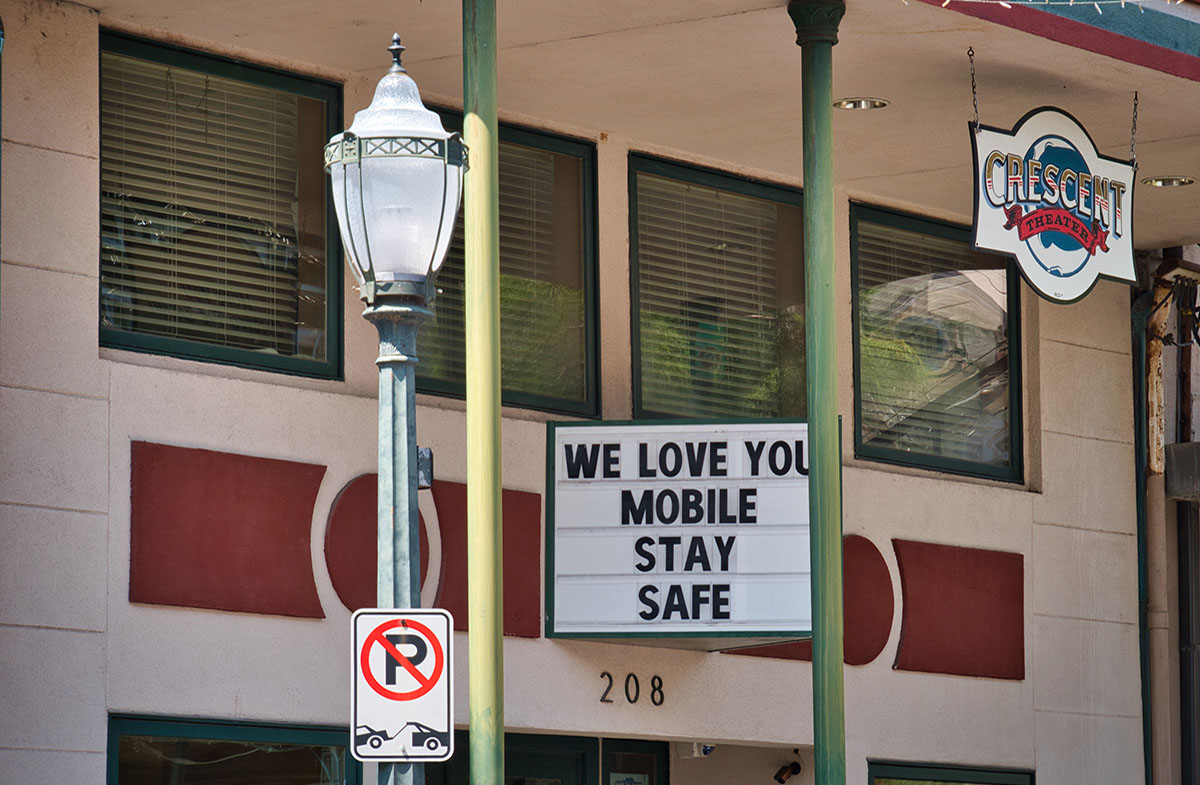 On our way back across the bay, another fond memory hit me. As a kid, I can remember going through one of Mobile's tunnels to get across the bay. My father always referred to them as the "old" tunnel and the "new" tunnel. The Bankhead Tunnel (old tunnel) was opened in 1941 and is a narrow 2-lane road that was operated as a toll-road until the mid-70s. The George Wallace Tunnel (new tunnel) was opened in 1973 and carries 4-lanes of traffic on I-10. Having not seen these tunnels in years, I just had go through each one. As a kid, I can remember just being amazed at how you could drive your car through this long tunnel that led you 40 feet under the water to the other side. As an adult, the tunnels seemed much shorter, but brought back some great memories of our trips to the beaches when we were younger.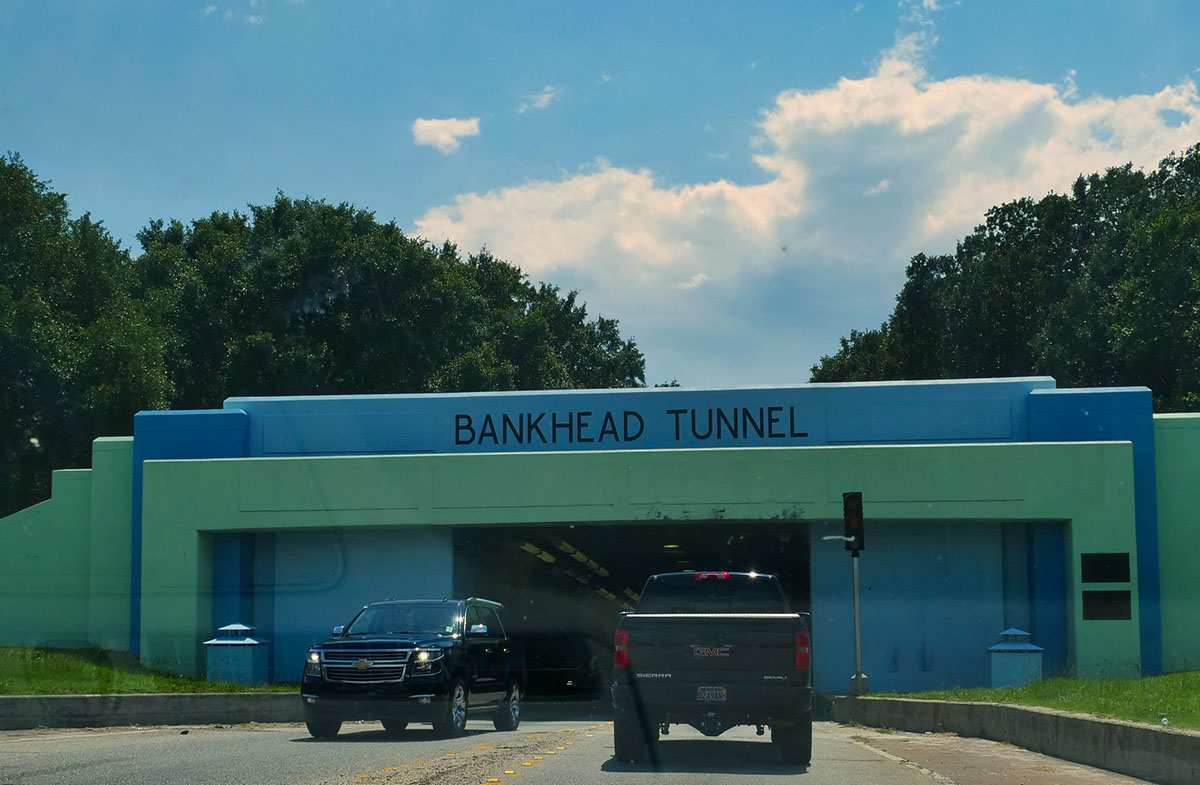 Now it was time to find some food. This was going to be the biggest challenge for the trip. Most of the restaurants in the area were still closed for dine-in, but were open for take-out and/or delivery. After making a few phone calls and verifying that they were open for dine-in, we decided to drive to Foley, Alabama to visit Lambert's Cafe. Lambert's is known as the "Home of the Throwed Rolls" and has a reputation for having a great menu and atmosphere. After driving for about 45 minutes to get there, we proceed to the door, where there are literally hundreds of people sitting outside. They failed to mention over the phone that, since they were operating at only half-capacity, there was a 2-3 hour wait to be seated. Nope. I rarely wait at restaurants anyways, but I was starving, and the thought of a 3-hour wait was too much for my stomach to handle. As an alternate, we had heard about a restaurant in Fairhope that was supposed to have amazing burgers, so we proceeded back.
I won't mention the name of the place, but when we arrived, they were open, not too crowded, and seemed to be taking the social distancing thing seriously. All of the tables were outdoors, so we placed our orders and took a seat at one of the picnic tables to wait for our food. Once it arrived, I was less than impressed. I guess I could probably chalk it up to the current situation, but whatever the reason, it was average at best. Maybe once things get back to normal, I will give it another try, but for the time being, it was enough to settle my growling stomach. C'est La Vie.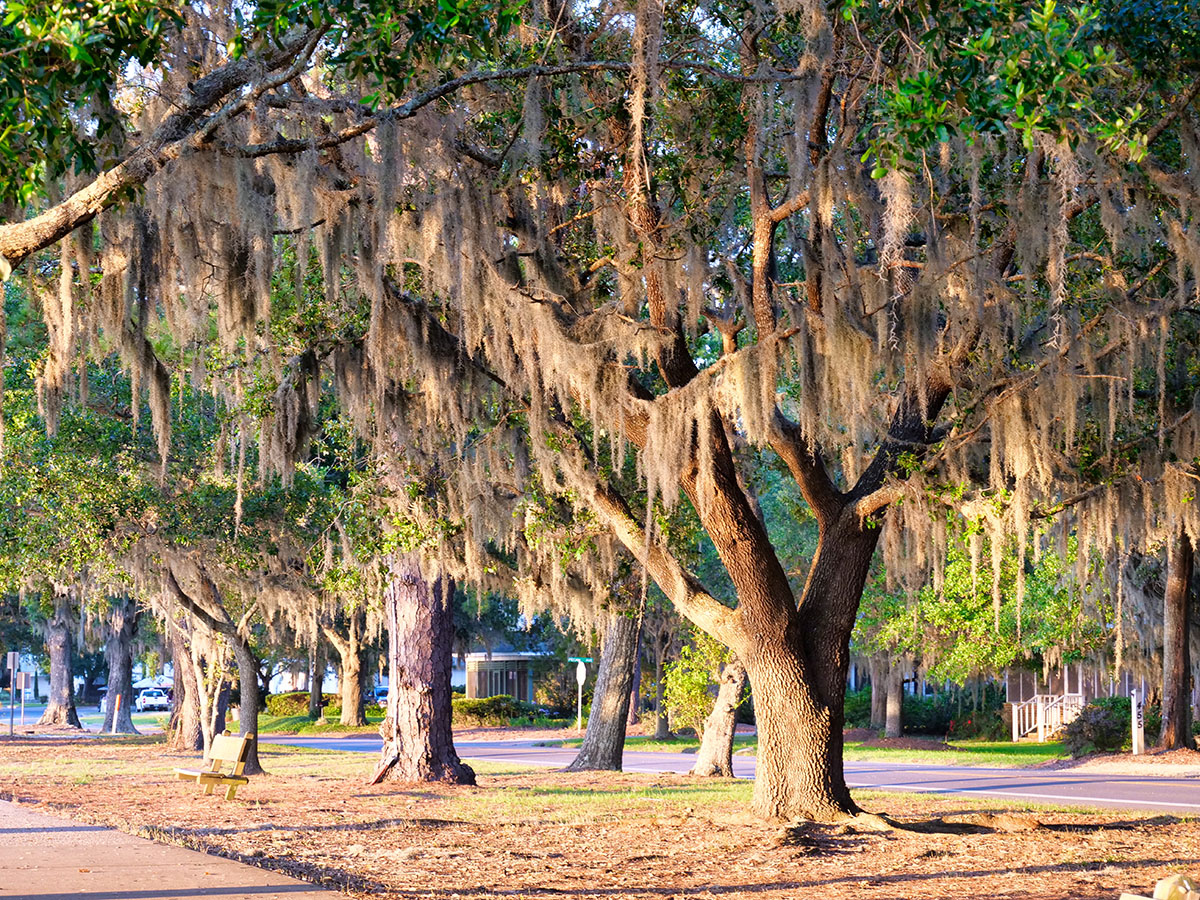 With the afternoon getting late, it was time to see what all of the locals raved about. The sunset over Mobile Bay is supposed to be stunning, which is why all of the locals congregate to the local parks in the evenings. We crossed the street from our cottage and were greeted with some amazing views.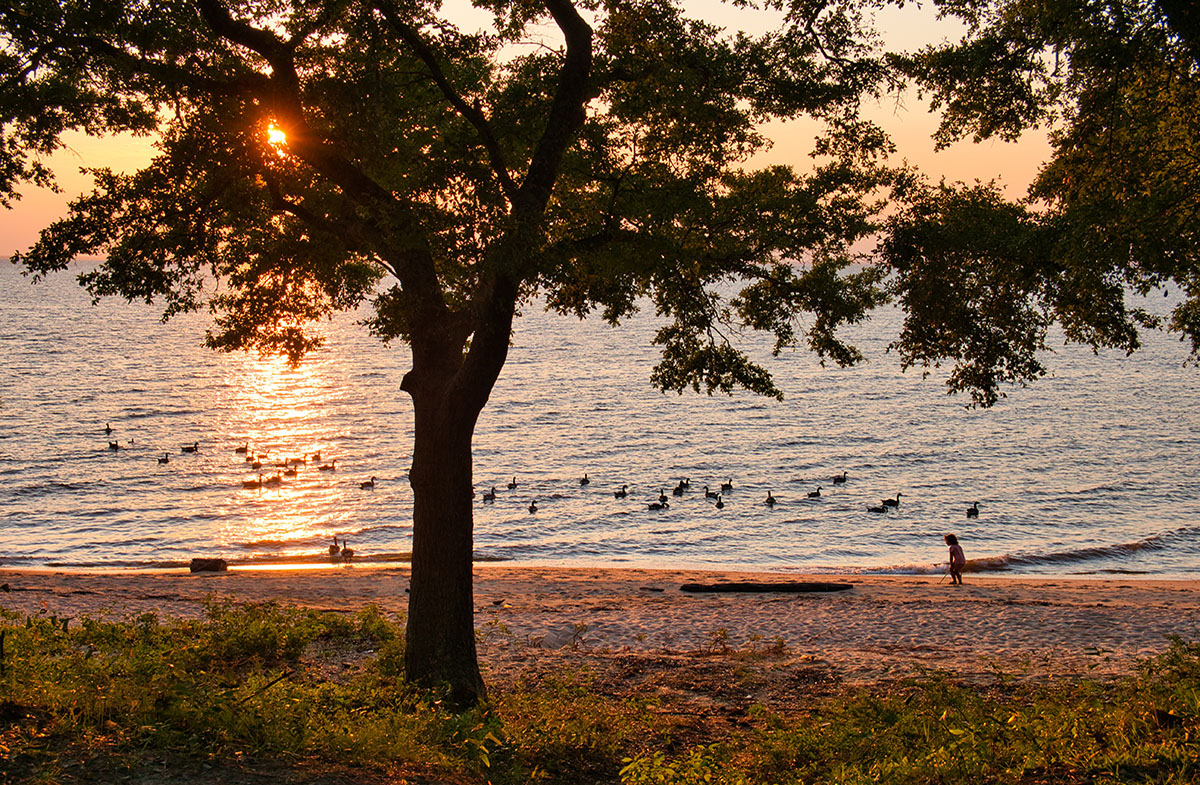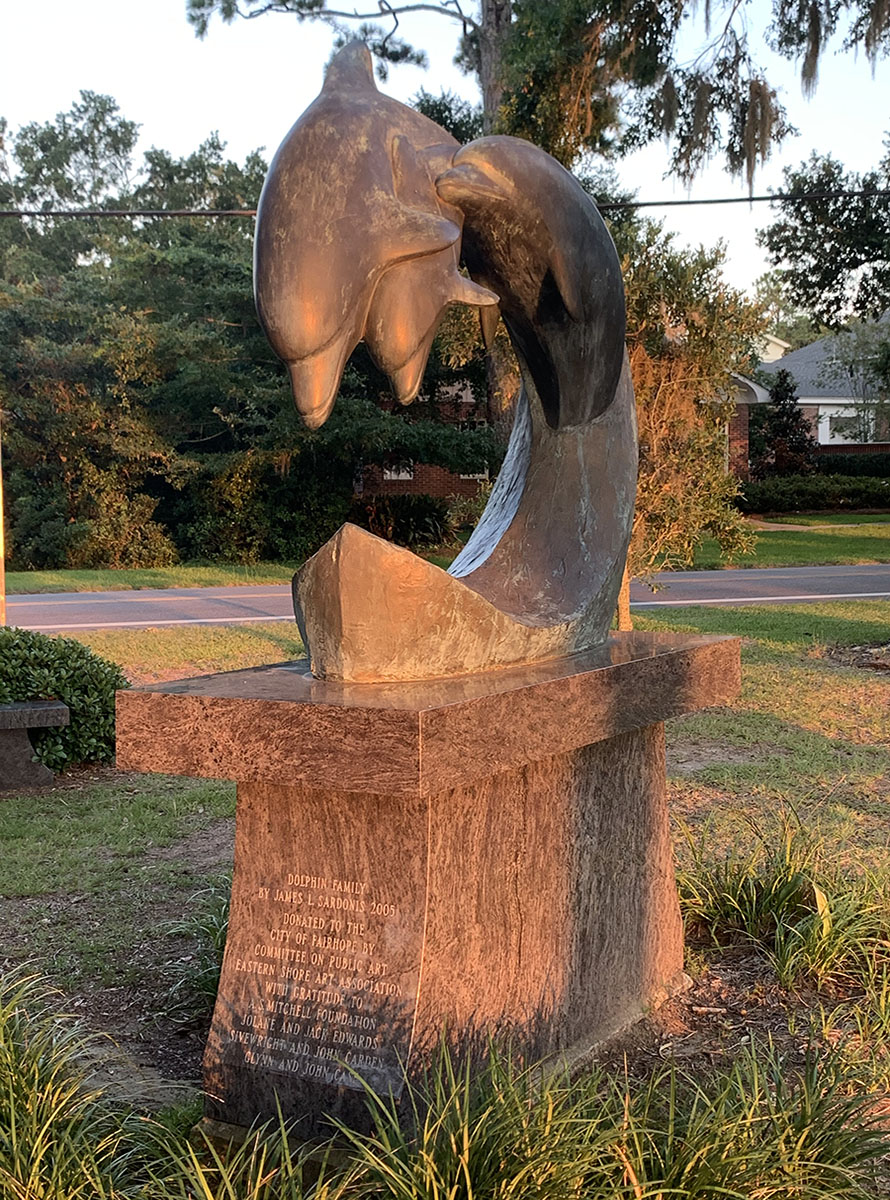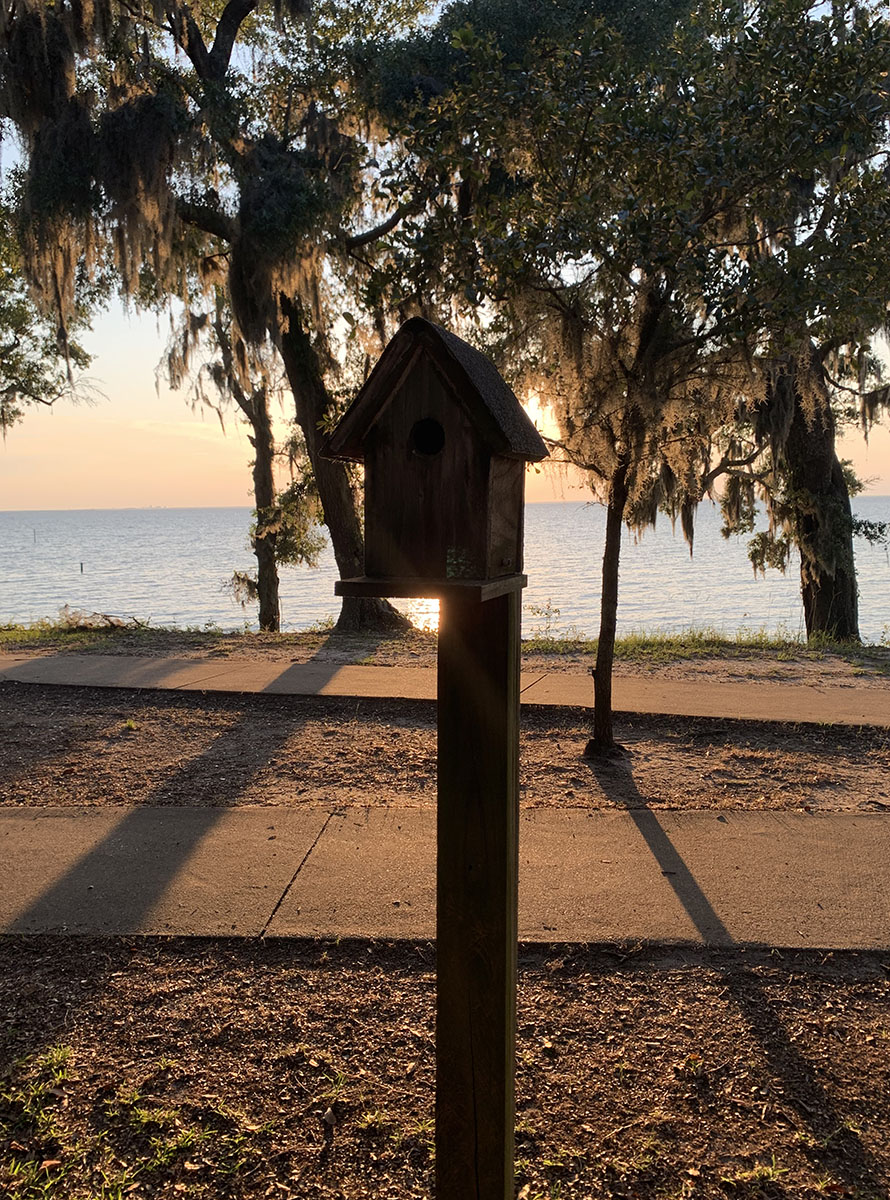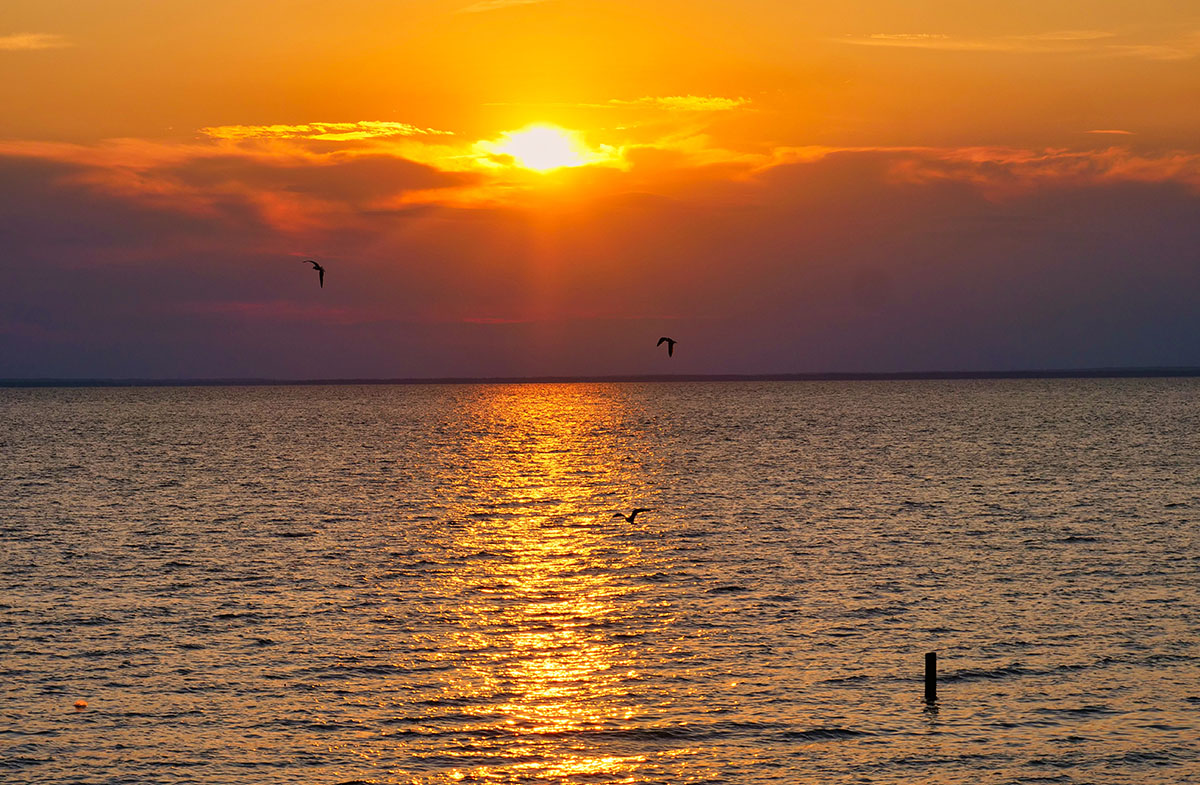 While planning the flight home for the following morning, we realized that it was going to be an early one. Pop-up thunderstorms were expected the following afternoon at home, so we decided to get an early start and head out to the airport at about 8am. On the way, I called in a fuel order and we stopped by a local coffee bakery to get a hot cup of coffee and a blueberry muffin. It was just enough to hold us over until we got home, which we estimated would be about lunch time. After a thorough preflight inspection and adding 2 quarts of oil, we lifted off to the north and dodged a few clouds while taking a more direct route home. As we contacted Pensacola departure, we could hear them warning other pilots about a squall line just offshore that was producing heavy thunderstorms with embedded water spouts. It was apparently a good decision to stay away from the coast on this flight.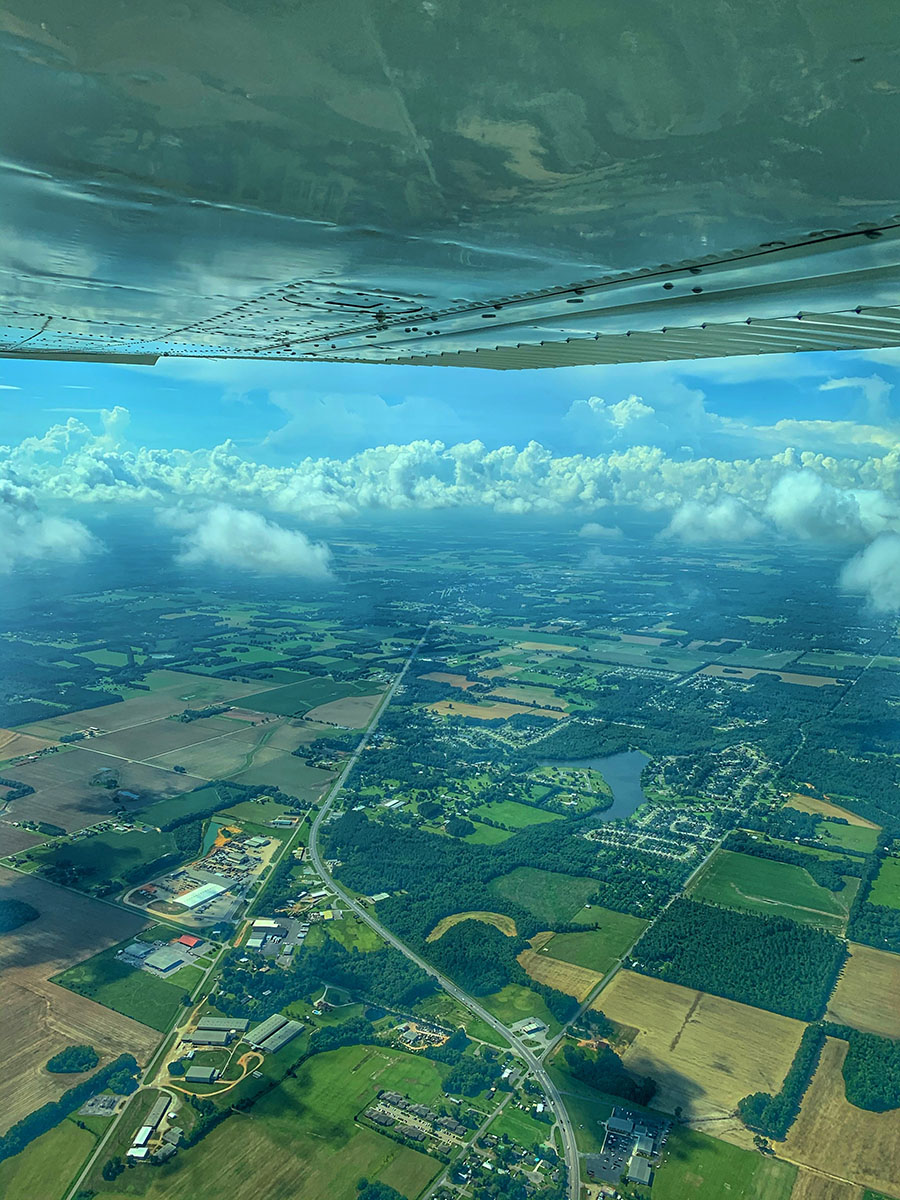 And just like that, the trip was over. We landed back at the house just after noon and put the plane away. It was bittersweet to be home, but this trip definitely could have been a little longer, but it served its purpose. The plane and her new engine was working flawlessly and it allowed me to get out of the quarantined prison that I felt like I had been in for way too long. Anyways, the following week, I was going to have to take her back in for the first 10 hour oil change to inspect for any newly-discovered leaks, and that 5 day wait until I was able to fly again was going to feel like an eternity!