Long Training Weekend - Day 1
I have been looking forward to getting my training wrapped up for my instrument rating for a while now, but I had a pitstop to make along the way.
Over the past five days, I have racked up quite a few miles and spent a lot of time in the airplane. Almost 19 hours to be exact.
Now, don't get me wrong… flying is my happy place; I love every minute of it. But this trip was a little different. It pushed my boundaries as a pilot, it tested my patience several times, and by the end of the trip, I was completely exhausted. Allow me to paint you a clearer picture.
Route for Day 1: KCTJ - 5A9 - X35
Carrollton, GA. - Warm Springs, GA. - Marion County, FL.
Duration: 2.8 hours - 311 miles
For the last two weeks, I have been trying to get down to the Orlando area to get some adjustments made to the plane. The weather apparently didn't like that idea and it had been raining pretty much nonstop for over a week. Finally, late afternoon on Wednesday, I saw a slight break in the clouds. The ceilings had been much too low for days, but now, the weather to the south was much better, and I had just enough visibility to make the 20 mile or so journey to much clearer skies. I had to seize this opportunity and just go. The total trip time down to the Orlando area was going to take me about 2.5 hours, and it was now approximately 5:00 p.m., so I knew that I would be cutting it close to sunset before I would arrive and I also needed to make a stop for fuel along the way. I quickly threw some clothes into my duffel bag, performed my pre-flight, and took to the skies.
I decided to go to Roosevelt Memorial Airport in Warm Springs, Georgia as my fuel stop. Most people know of Warm Springs because of the "Little White House", which served as president Franklin Delano Roosevelt's personal retreat and was the site of his death. To give you an idea of just how small the town is, it has a total area of 1.2 square miles and had a population of 485 people at the 2010 census. That's a really small town! The best thing about sleepy little towns like this is that usually, they have really cheap fuel and they love getting transient aircraft business.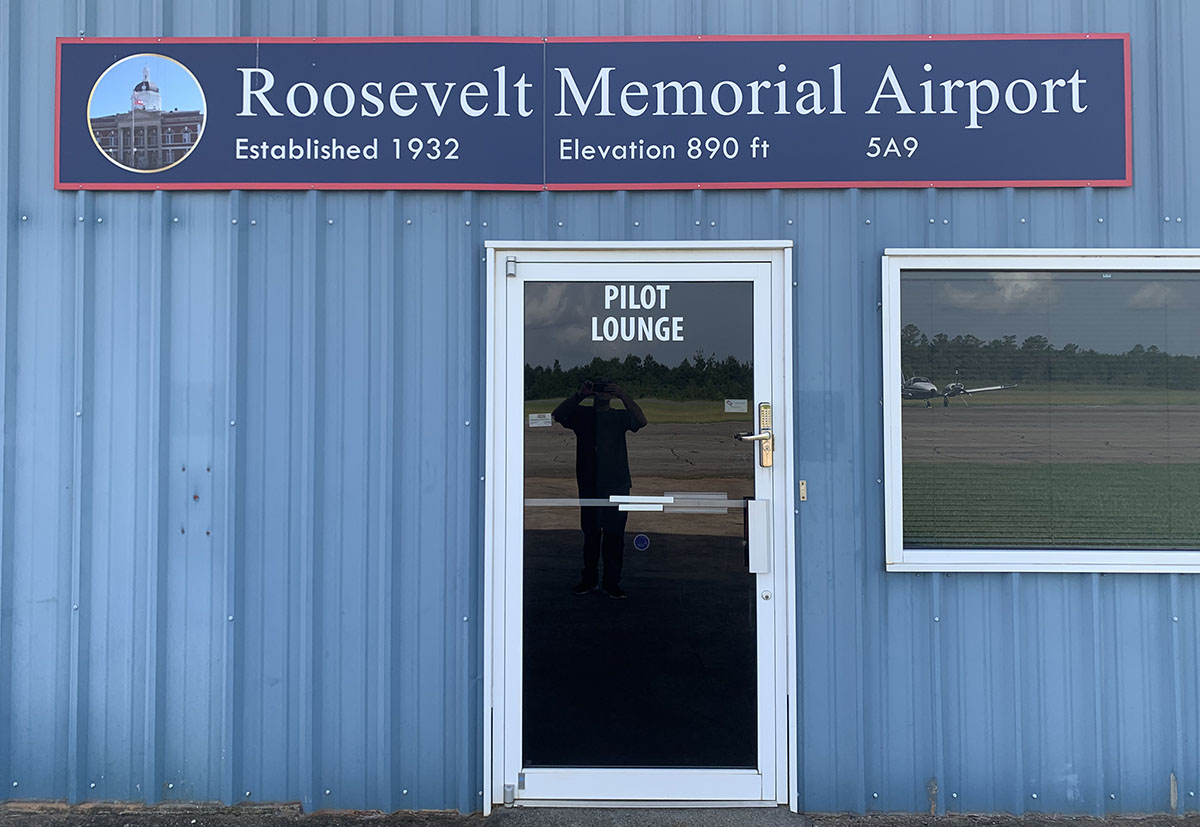 Needless to say, I was the only aircraft in sight, with the exception of a small glider and a twin-engine Piper that was based there. I topped off the tanks, took a quick bio break, and then climbed back aboard for the remaining 2:15 or so of the trip. The departure was normal and nothing out of the ordinary. I contacted Atlanta departure and was quickly handed off to Jacksonville Center for flight following. All was good, until out of the corner of my eye, I caught a glimpse of my ammeter gauge bouncing below normal levels. These gauges are not necessarily known for their accuracy, but this wasn't right. Typically, this gauge registers at the center, or maybe a little above, but never rapidly bouncing towards the "discharging" side.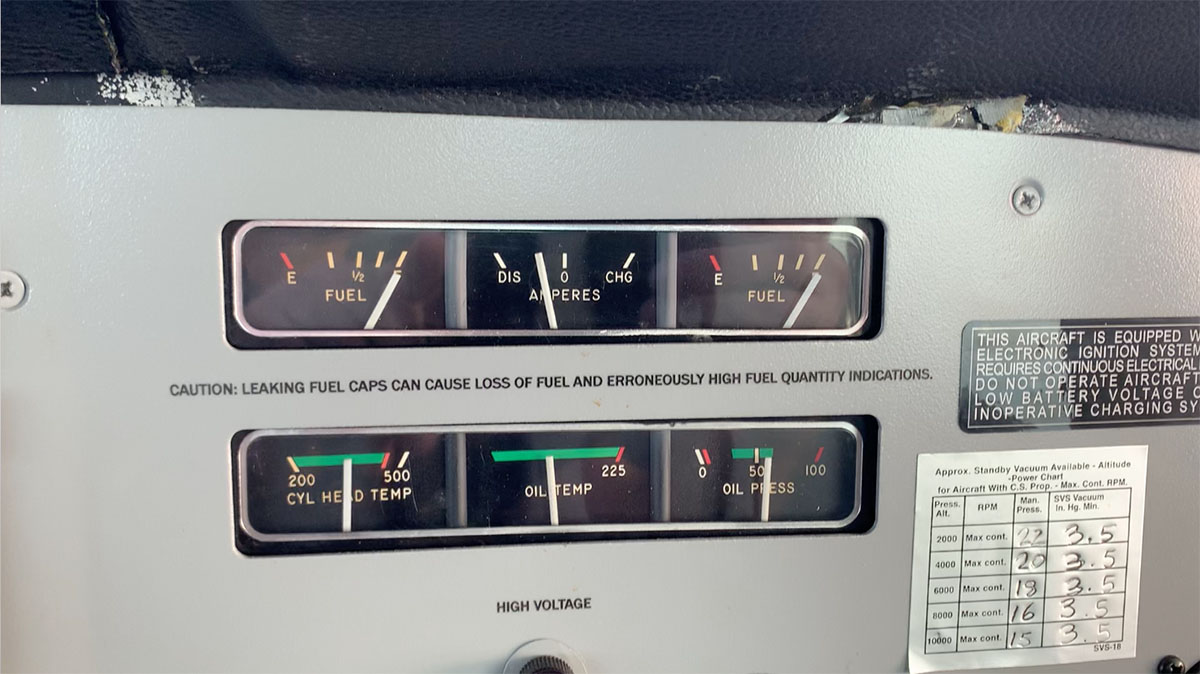 It was time to make a decision… should I continue on to my destination or find a place to land as soon as possible? On one hand, if the alternator was to go out, I would be left without any electrical power, radios, or navigation. I typically wouldn't be overly concerned with that possibility, except it was already late evening and I was probably going to need to land in the dark. My other option was to land at the nearest airport in south Georgia and hope to find help. That's a really risky proposition. I most likely would have had to wait until the morning, and then could have been held hostage by whatever the mechanic wanted to charge for his diagnosis. Between the unknown costs and the possibility of having to wait days for parts, I really didn't want to go that route either. After a little in-flight troubleshooting, I made the decision to continue on for the last 120 miles or so and I would just address the issue once I was on the ground. To be safe and to conserve a little power, I turned off a few of my unnecessary electronic components. Every little bit helps, right?
As I crossed into Florida, I got those lovely words from air traffic control. "N52751, radar indicates areas of moderate, heavy, and extreme precipitation along your line of flight. Remain in VFR flight conditions". I took a look at the weather information that I had onboard and saw that there were plenty of gaps that I would be able to fly through to clear the weather. After bobbing and weaving a little bit, I was clear of the storms, but the extra time that it took to do so made landing at my intended destination impossible, since it was an unlit grass strip. I had planned for such an occurrence and decided to go to my alternate, which was the Marion County Airport. There, I would be treated with two long, well-lit, paved runways and I could just fly over in the morning… oh yeah, and my ammeter was still going bezerk, so the thought of being on solid ground was appealing to me.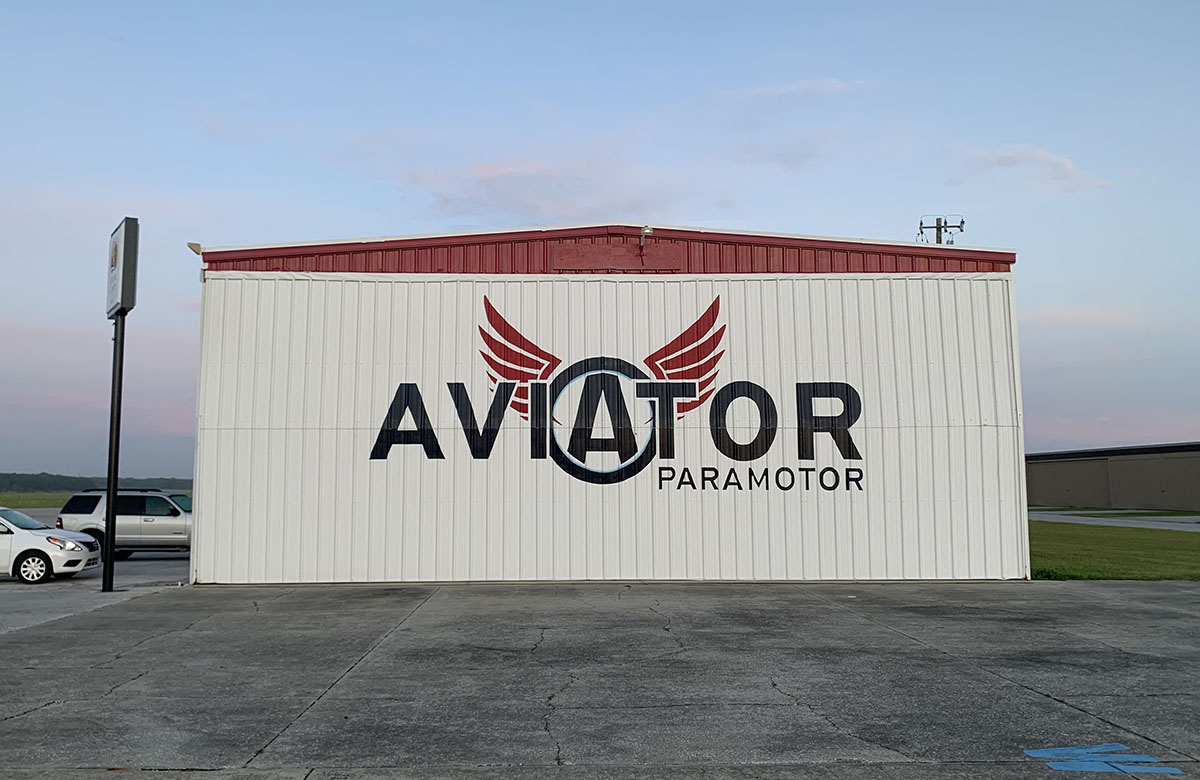 As soon as I touched down and turned off of the runway, I heard someone call over the radio; there were three cars on the active taxiway and to use caution. About this time, I saw the hangar for Aviator Paramotor, one of the premier paramotor training companies in the United States. Oddly enough, I had previously spoken to them about doing some training, but prior to the outbreak of COVID-19, they were booked out and had no openings in their classes for months. The cars that were on the taxiway were the Aviator instructors and students coming in from their evening flights. After tying down the plane and securing it for the night, I took the opportunity to go over, see their operation and chat for a few minutes. I was greeted by Micah Stevens and we spent a few minutes talking about paramotors while they secured all of their equipment and Micah and his wife Ariana even offered to drop me off at a local hotel for the night. They were fantastic ambassadors for the company, and after seeing their equipment, facilities, and speaking with them, without any hesitation, I would recommend Aviator Paramotor to anyone that would like to pursue paramotoring.
After getting to the local hotel, I realized that I had not eaten all day, so I ordered a pizza and relaxed, while trying to decompress and go over all of the events that just taken place. I needed to get to sleep for a 5:30 a.m. wakeup call. The goal was to be at the airport by 6:30 a.m. and off the ground as soon as practical to take the short journey over to Fruitland Park. To top it all off, I still had to contend with my alternator issue in the morning and wasn't really sure if the plane was even going to have enough battery power to start. I guess I will see soon enough!
Good night… Zzzzzz…